UNFPA Bangladesh and partners continue rallying against violence against women
Despite the phenomenal socio-economic progress Bangladesh has made over the years, the high prevalence of gender-based violence (GBV), stemming from deep-rooted gender inequality and discriminatory sociocultural norms and practices, continues to undermine the country's achievements.  
UNFPA Bangladesh has been using the momentum of the 16 Days of Activism against Gender-Based Violence, the annual international campaign that kicks off on 25 November and runs until 10 December, to unite all stakeholders in the fight against GBV in all its forms, and calling for global actions to increase awareness, galvanize advocacy efforts, and share knowledge and innovations in the prevention and elimination of GBV.
On 3rd December, the United Nations Population Fund (UNFPA) and its partners - Department of Women Affairs, ActionAid Bangladesh, Ain o Salish Kendra and CARE Bangladesh - jointly organized an open-air event in observance of the global campaign at Dhanmondi Rabindra Sarobar.
The event amassed thousands of people standing in solidarity with the themes 'Orange the world: Generation Equality Stands against Rape' and 'Ensuring equality between men and women can prevent violence', aligned with both the international and national theme of the campaign.
The aim of the event was to raise awareness and take a stand against any form of gender-based violence including rape and sexual harassment, and to bring policymakers and media together to amplify the message being shared and to encourage policy and legislative reform.
Sultana Razia, Additional Director of Ministry of Women and Children Affairs was present as a Special Guest at the event. Dr. Asa Torkelsson, Representative, United Nations Population Fund (UNFPA); HE Harry Verweij, Ambassador, Embassy of the Kingdom of the Netherlands and Benoit Préfontaine, Ambassador, Canadian Embassy were present as the Guests of Honour.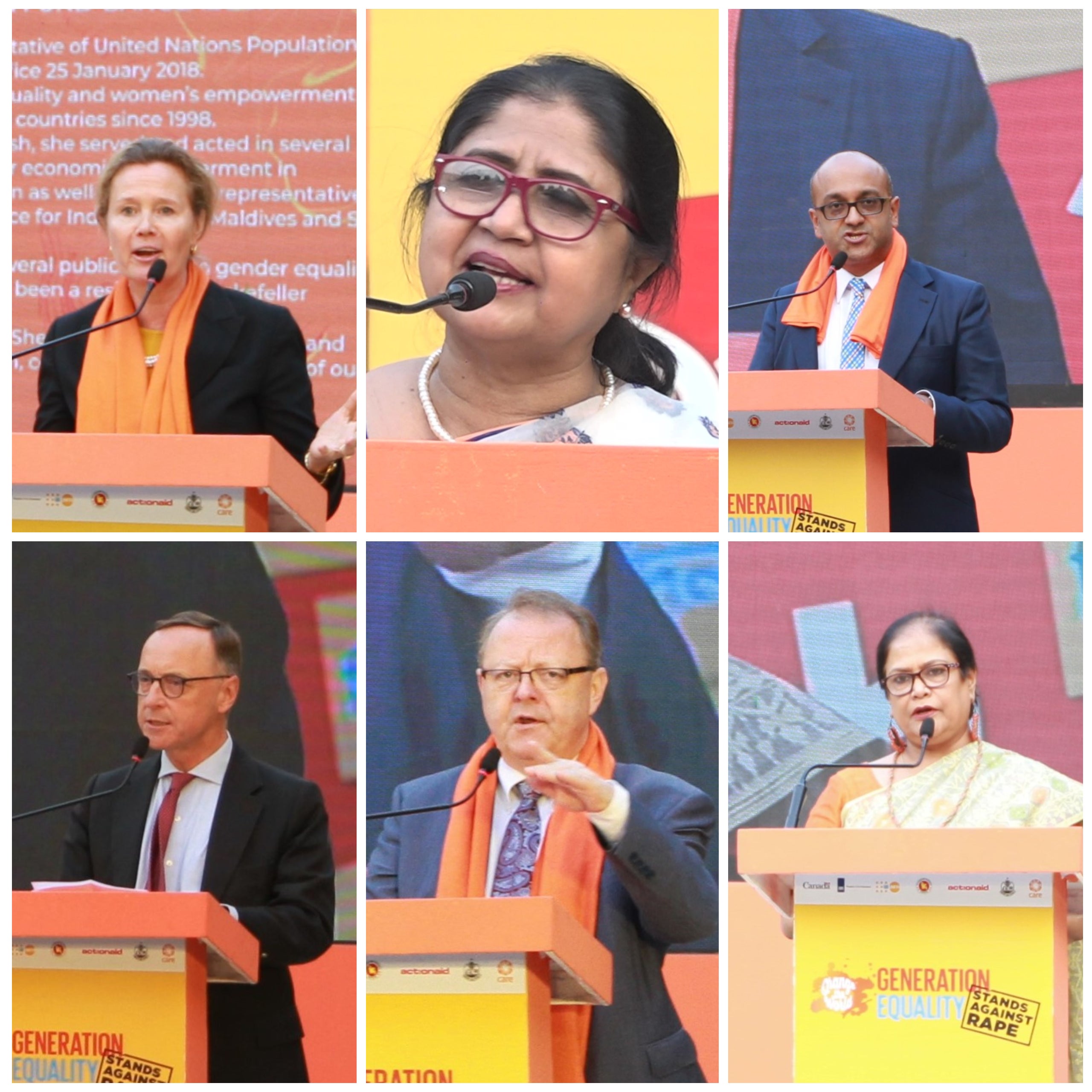 "Women's roles are not limited by being a mother, daughter and wife. They have great potential if they get the equal opportunity to explore themselves," said Sultana Razia, Additional Director, Ministry of Women and Children Affairs. She pledged that the Government and NGOs will work together to create a safe and equal environment for women so that they can flourish and meet their highest potential.
UNFPA Representative Dr. Asa Torkelsson said, "Rape is rooted in a complex set of patriarchal beliefs, power and control that continue to create a social environment in which sexual violence is pervasive and normalized. On a global scale, one in three women will experience physical or sexual violence, including rape, in her life time. The situation must change."

 
"We are scared to live in this society which is not yet entirely safe for the women. It is very important to ensure a safe world for both women and men. UNFPA is supporting the police to operate 'Women Help Desks' in 51 police stations following standard operating procedure and as a result now police stations are providing 23% higher services on GBV issues than average," she added.
H.E. Mr. Harry Verweij, the Dutch Ambassador to Bangladesh, said that the elimination of violence against women requires continuous attention and action and this is an important priority for the Netherlands.
"Progress cannot be achieved without change and change requires everyone's commitment."

 
Pointing out that 3 rd December is also the International Day of persons with disabilities, Ambassador Verweij  reminded the audience  of the SDG slogan "leaving no one behind" and underlined the importance of including those who are too often forgotten.
H.E. Benoit Préfontaine, the Canadian Ambassador said that statistics do not completely reflect the frequency of sexual violence, and the actual number is often more than than those officially reported.
"Far too many lives are ruined by rape and sexual violence. Rape happens in the schools, work places, in our streets, in our homes and no place is safe. When rapes are reported they often go unpunished because the police and the judiciary system failed to assign enough priority to resolving them, the victims do not get equal support. But the situation is not hopeless. There are a lot of people standing up against it and the efforts of the government is also commendable. We have to ask the hard questions to us such as how we can accelerate the change because it is deep rooted within ourselves. Real change will only come if our individual conscience is touched," he said.

 
The event started with a video presentation titled 'My Commitments, My Dreams' where 16 individuals from different walks of life shared the daily action that they take to prevent any kind of gender discrimination and violence against women and girls. They also expressed their change they desire to bring ab0ut.
The event included activities such as a self-defense class led by adolescent girls from Fulbaria, (Mymensingh district), who gave a demonstration  of self-defense techniques to protect oneself from sexual and physical violence; storytelling on unfinished business to end gender-based violence; a musical recital with performances by F Minor band, an indigenous all female band, and by prominent singer and composer Farzana Wahid Shayan; a flash mob dance performance with the theme of 'Generation Equality' performed by renowned dancer Warda Rihab and her dance team; and ended with a short drama entitled The Fearless performed by three artists with physical disabilities from Dhaka Theatre Group.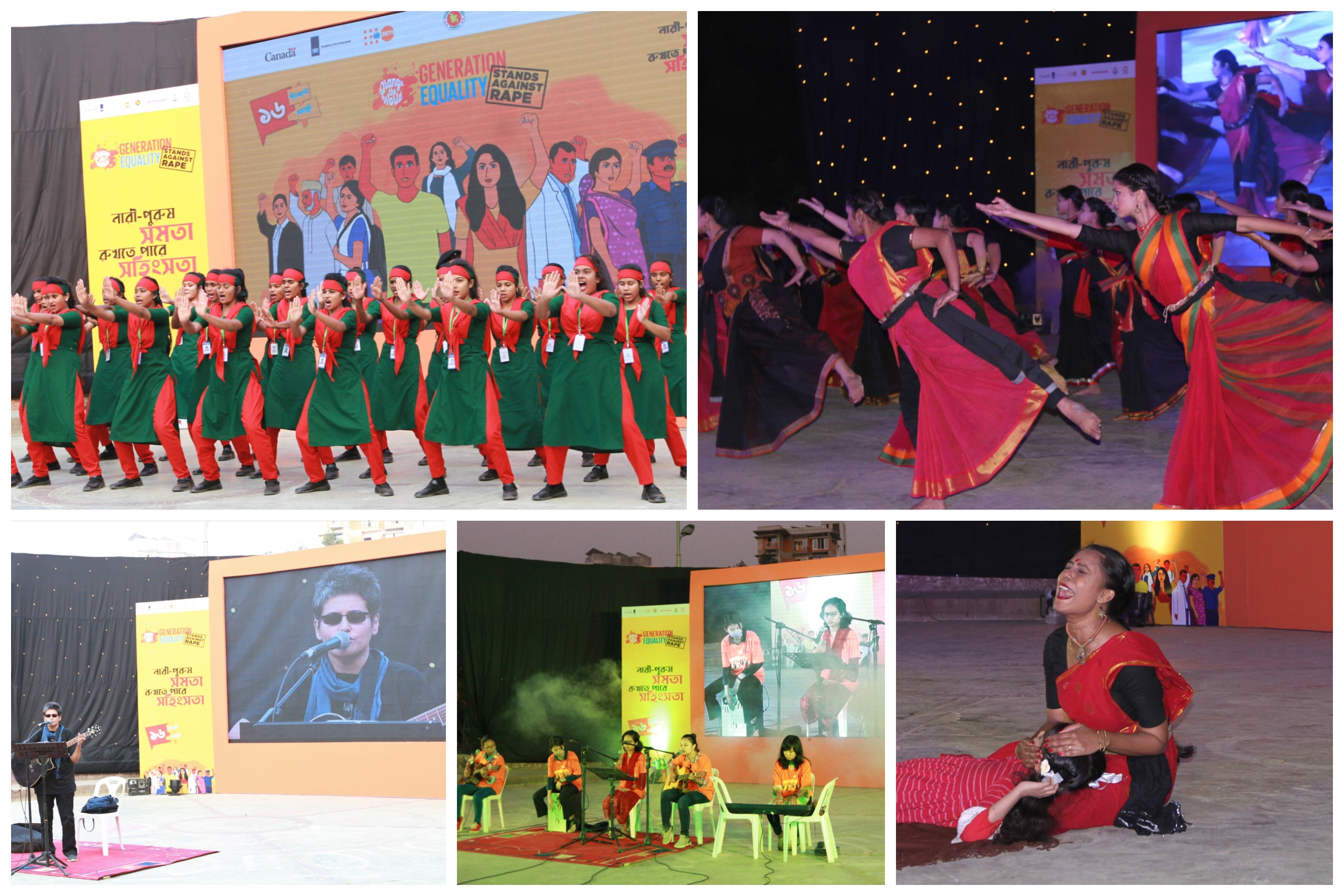 The two and a half hour long event ended with vote of thanks by Shamima Pervin, Chief-
Gender Unit of United Nations Population Fund (UNFPA).