26 October 2017, Dhaka – UNFPA, the United Nations Population Fund in Bangladesh, and Sweden, represented by Sida, signed a landmark grant agreement, launching the "Strengthening Midwifery-led Continuum of Care" project that will run into 2020. The project aims to reduce maternal and newborn mortality and morbidity by professionalizing midwives as key providers of sexual and reproductive health care across the country. 
The Swedish grant, through UNFPA, will support the Ministry of Health and Family Welfare of Bangladesh (MoHFW) in integrating midwives across the country's health system for a continuum of midwifery-led care. To achieve this, UNFPA will work closely with the Directorate General of Nursing and Midwifery (DGNM), the Directorate General of Family Planning (DGFP) and the Directorate General of Health Services (DGHS) under the agreed principles of quality, equity and efficiency.
The project will also focus on five high-need districts: Cox's Bazar, Bandarban, Noakhali, Sunamganj and Dhaka.
Sweden has been a longtime advocate of the midwifery profession in Bangladesh, sending midwives in 2005 and providing support to establish midwifery education, internationally-recognized standards and facilities nation-wide. By increasing the research capacity and opportunities for higher education in midwifery, the project strives to develop a sustainable education programme in Bangladesh.
"We are delighted to support UNFPA's work on developing professional midwifery in Bangladesh. This grant will also help provide quality sexual and reproductive health services for the most vulnerable, ensuring no woman or adolescent girl is forgotten," says the Ambassador of Sweden, H.E. Ms. Charlotta Schlyter.
"UNFPA is honoured to continue strong partnerships with Sweden and the Government of Bangladesh. Midwives have proven themselves as a high-value-for-cost solution in saving lives. We have seen this in various parts of Bangladesh and currently in the Rohingya refugee crisis in Cox's Bazar District," comments Mr. Iori Kato, Acting Representative of UNFPA Bangladesh.
UNFPA's midwives and reproductive health workers have already screened over 65,000 newly arrived Rohingya women and girls, conducted over 14,000 antenatal checkups and 1,000 postnatal checkups, and delivered almost 350 babies in Cox's Bazar, along with serving the host community and previous arrivals.
The project is expected to enroll 2,000 midwifery faculty, leaders and midwives in an in-service training programme; accredit 38 nursing institutes and colleges by international standards; enable 5 districts to establish facilities with 24/7 basic emergency obstetric and newborn care; and  provide 15 public health facilities with a midwifery-led continuum of care by 2020, among its outcomes.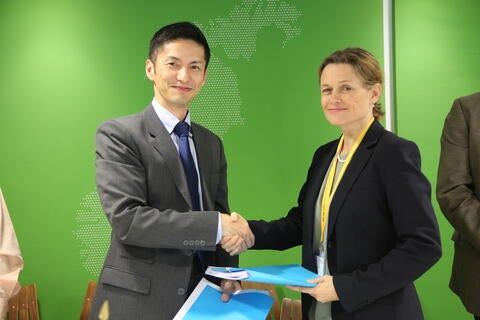 -----
For more information, contact:
Rachel Tze, UNFPA Bangladesh Communications Officer: tze@unfpa.org