Times of crises have a tendency of highlighting the importance of traditionally female-dominated professions. The ongoing COVID-19 crisis has not been an exception to this, as millions of female health workers and caregivers around the world have taken a leading role in the battle against the pandemic.
Perhaps less evident to many, however, is the equally crucial work undertaken by women like Farida Yasmin, who ceaselessly continued to address the alarming rise in gender-based violence during COVID-19. Farida serves as a case worker in one of UNFPA's Women Friendly Spaces in the Rohingya camps in Cox's Bazar. Throughout the pandemic, she has continued to provide mental health and psychosocial support to Rohingya women and girls in order to help them heal from trauma and build their resilience to cope with their daily challenges amidst COVID-19.
"As a caseworker, I listen to the women and girls and empathize, and validate  their feelings through reassuring statements. Through open and honest conversations, we are able to establish a strong connection and help them lead healthier and more peaceful lives," Farida states.
Women and girls of all ages from the Rohingya camps and surrounding host communities are welcome to  the Women Friendly Spaces. In addition to the mental health and psychosocial support services, these spaces also provide skills training such as stitching, tailoring and crafting courses as well as awareness-raising sessions on gender-based violence and other important issues.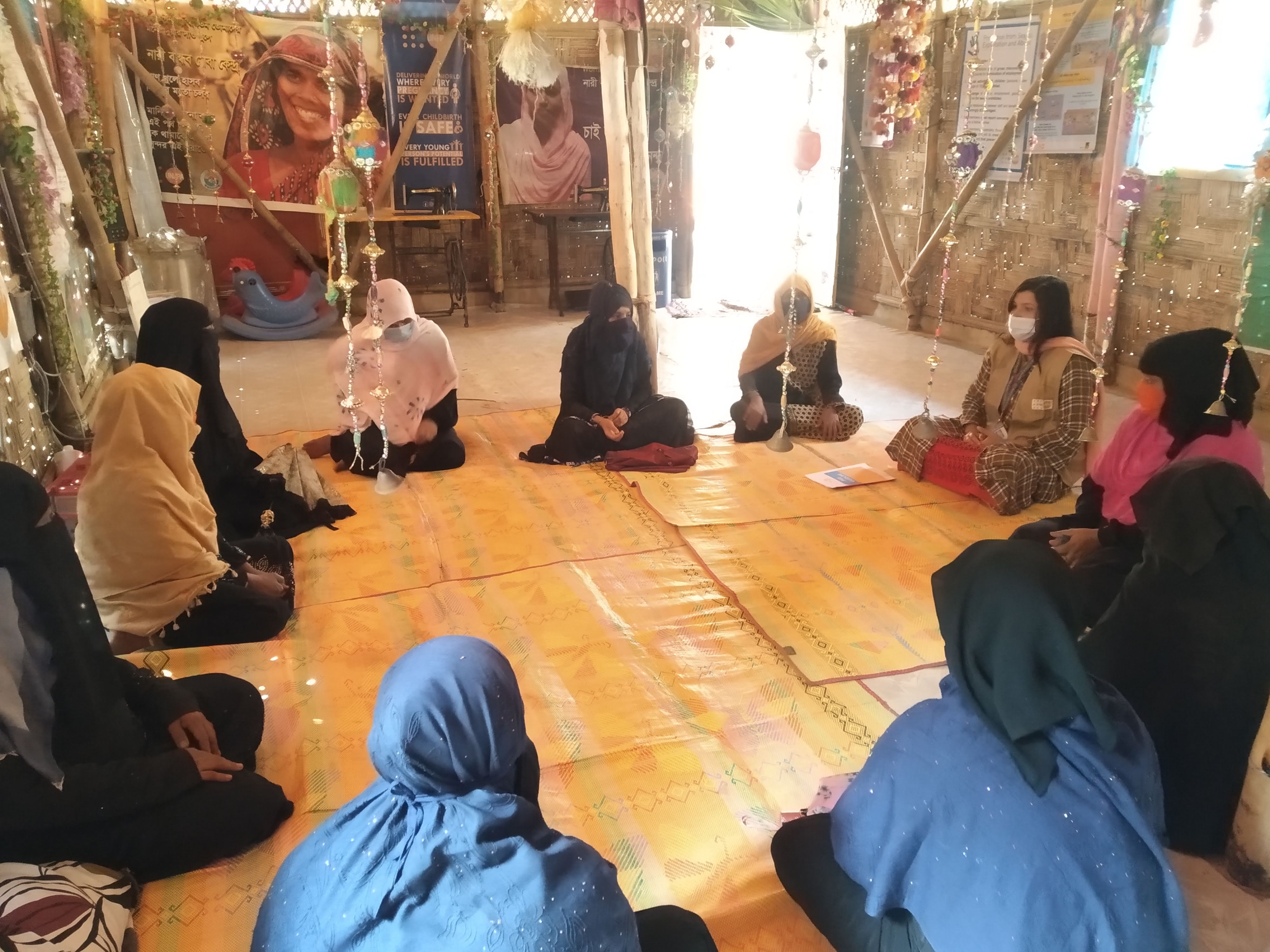 These services strengthen the bond of sisterhood between the participants and case workers,  and helps to build the self-confidence of the women, as they are empowered to contribute to their communities, by starting their own small businesses or engaging in community service. For Farida, the key is in encouraging women to think in creative ways and help them gain the power to control their own lives:
"By listening to the problems encountered by women and their family members, we can jointly think of ways to solve them. It is important to help women realize that they have decision-making power and that there are often possible alternatives available to them," Farida explains. 
This realization that there are solutions to lead one's life in a safe and dignified manner is the key to women fulfilling their potential.. A society that does not believe in women, does not create women who believe in themselves. That is why through Farida's leading role in building the confidence of Rohingya women and girls, she  helps to create a new generation of female leaders. 
Today, on International Women's Day, and everyday, we celebrate female leaders such as Farida, who strive to make a change, despite COVID-19. Together, we can build a more inclusive and safer Bangladesh for all women and girls.