"What we want is a safe space for women, where they can discuss sensitive issues with full confidentiality and no fear of judgement", says 25-year old midwife, Mowsume Aktar.
Mowsume has been working as a midwife at UNFPA's Women Friendly Spaces in the Rohingya camps of Cox's Bazar since 2018, through the International Rescue Committee. The Women Friendly Spaces provide a safe haven for women and girls of the Rohingya and host communities in Cox's Bazar, Bangladesh.  
Having fled from their home country to save their lives, the Rohingya, particularly women and girls, are in dire need for mental health and psychosocial support, which they receive through UNFPA's 23 Women Friendly Spaces in Cox's Bazar. At these safe spaces,  women come together to share their experiences and receive support from one another, as well as from the staff working in the facilities.
Each Women Friendly Space employs a midwife like Mowsume. The midwife provides women with critical information relating to sexual reproductive health and rights, including sexually transmitted infections, menstrual regulation, family planning, and how to clinically and urgently manage the unfortunate incident of rape. 
Mowsume admits that the task of educating women on such sensitive topics that are considered taboo by the community, is not always easy. "Whenever I go door-to-door to share information about the services that we provide, I am often found in between a clash of tradition and choice. But I do not give up, because I have faith in the power of using my voice to share reliable information," she says with a bright and resilient smile.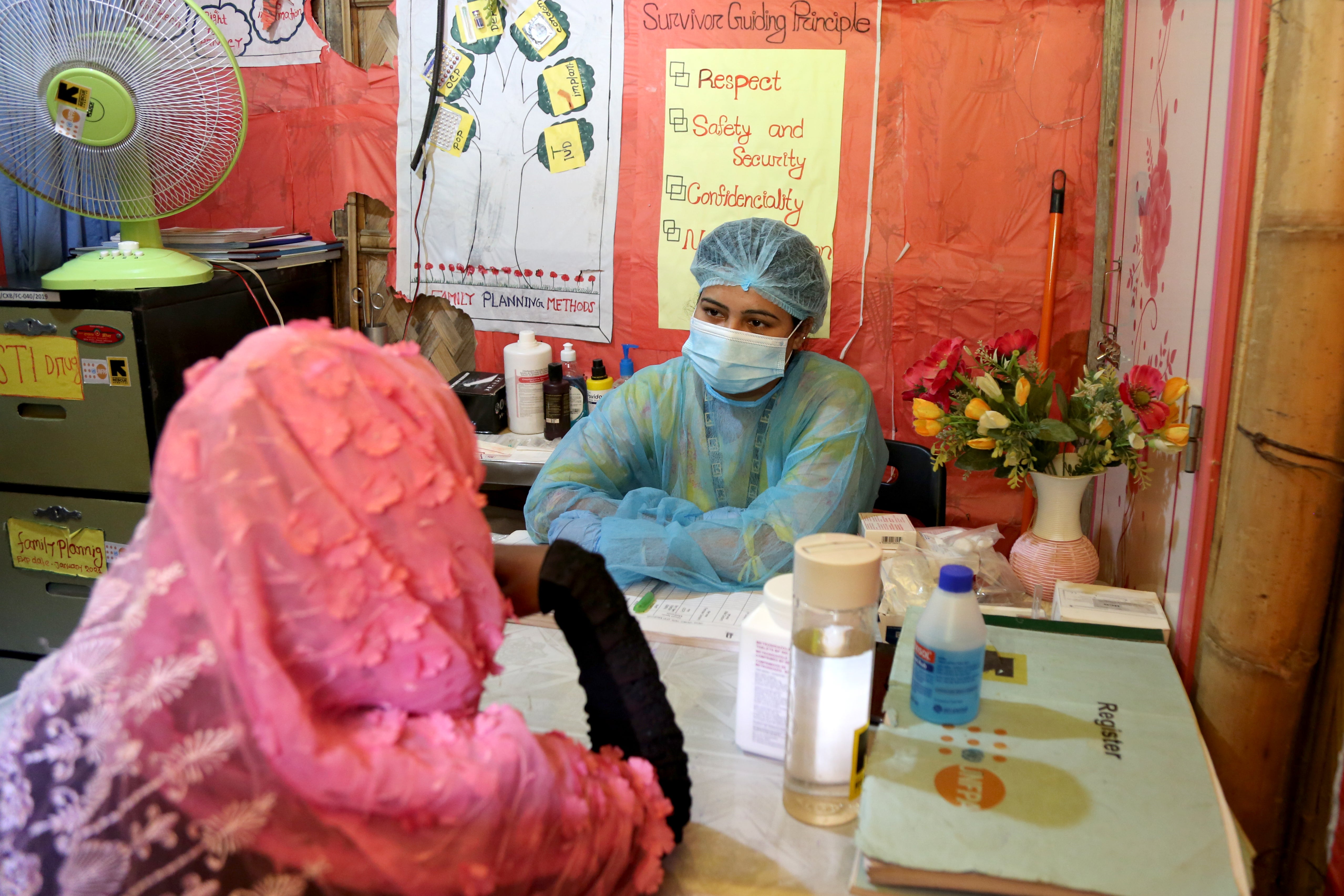 Mowsume reveals that health benefits of family planning, spacing of pregnancies and menstrual health of girls are topics that are sometimes particularly difficult to openly discuss among the Rohingya community. She has found out that making references to religious scriptures, as well as directly engaging with men are effective ways to help people digest her life-saving messages.
"My biggest dream is to see more and more women empowered. I want them to be more self-confident and to be able to make decisions on their own, especially about the number of children they want to have", says Mowsume.
With the services of midwives such as Mowsume, women and girls in the Rohingya and host communities continue to receive critical life-saving information about their sexual and reproductive health and rights. With increased capacity to make informed choices about their life and wellbeing, women and girls have more autonomy over their bodies, which reduces their vulnerability towards gender-based violence.
"Through my work, I have seen positive changes in gender-relations in the community. Women feel safe to come to us now and men are happy about the knowledge that the women are receiving. I see that people want to be more informed about their health rights. Above all, I see an increase in respect, which should be extended to everyone in Bangladesh, in Myanmar, and in all corners of the world", says Mowsume.