Cox's Bazar, Bangladesh 29 March 2018 – The Government of Japan in partnership with UNFPA, the UN reproductive health and rights agency, will provide lifesaving sexual and reproductive health and protection interventions for women and girls who have fled violence in Rakhine State, Myanmar. Now living in overcrowded camps and settlements in Cox's Bazar, Bangladesh, these displaced girls and women face high health and safety risks.
The Government of Japan's funding arrives around the critical 6th month of the humanitarian response when services for displaced persons not only need to be sustained but strengthened and made more comprehensive. With imminent natural disasters approaching, such as monsoon season and potential flooding and landslides, this funding will also help mitigate the impacts on already vulnerable displaced persons. Women and girls being especially vulnerable to gender-based violence in disasters and their reproductive health needs often forgotten as well.   
With Japan's support, UNFPA will deploy more highly-skilled midwives to provide 24/7 care, including antenatal and postnatal care, family planning, treatment for survivors of sexual violence, and safe delivery services. It will also provide emergency stretchers and 'Tom Tom' ambulances for pregnant women to reach facilities in time, along with lifesaving supplies and community outreach activities.
UNFPA will be able to continue running its' Women Friendly Spaces – safe spaces that displaced women and girls and those from the host community have come to trust. Women and girls are able to build their support networks, receive information, connect with services, and take part in social activities such as singing, dancing, crafts and gardening. The funding will also employ more psychosocial counsellors, clinical psychologists and case managers to aid survivors of gender-based violence.
The Ambassador of Japan to Bangladesh H. E. Mr. Hiroyasu Izumi expressed, "there are many pregnant women and newborns in the area. It is very important to save such women and children. To this end, UNFPA can make good use of their expertise and provide case management and psychosocial support activities."
Asa Torkelsson, Representative of UNFPA Bangladesh commented, "the Government and people of Bangladesh have shown immense generosity and compassion where not many would. Yet due to the sheer scale of this crisis, needs are still dire. This is why UNFPA is grateful that the Government of Japan has made a major commitment to saving the lives of women and girls, ensuring they will not die while giving birth and that those who have already suffered so much hardship and trauma can care for themselves and their families with dignity and without fear of further violence."
The 1.3 million peopled affected by the humanitarian crisis in Cox's Bazar will need continued support. Of them, 64,000 are estimated to be pregnant, 16,500 will give birth in the next 3 months, and 2,500 will likely experience life-threatening complications while giving birth. And tragically, all women and girls are at risk of facing gender-based violence.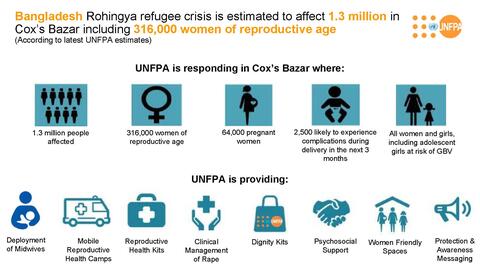 For more information, contact: Rachel Tze, UNFPA Bangladesh Communications Officer at tze@unfpa.org