Art has therapeutic qualities that can lead to positive health outcomes. Engaging in creative expression can be particularly helpful for vulnerable groups, who seek to find peace and happiness despite the uncertainty of their futures.
The Rohingya community living in the camps of Cox's Bazar, Bangladesh is no exception. This is why UNFPA has integrated creative arts as a key component of its efforts to provide psychosocial support to adolescent girls' in the Rohingya camps.
In the 23 Women Friendly Spaces operating in the camps, the adolescent girls can participate in 'henna' making workshops and other creative activities, which aim to improve their ability to build relationships and express themselves. 
Cultivating these life skills is crucial for the girls, especially since many of them have been subjected to traumatic experiences, including sexual violence, in their formative years. Such experiences can significantly hamper their healthy emotional development, which can lead to significant social problems as they grow up.
"The emotional support that we consistently provide creates a bond of trust between us and the girls. This way they become comfortable in seeking help from us, especially to come out from the painful experiences they have had," says Sabnam Mustari, a caseworker in one of the Women Friendly Spaces.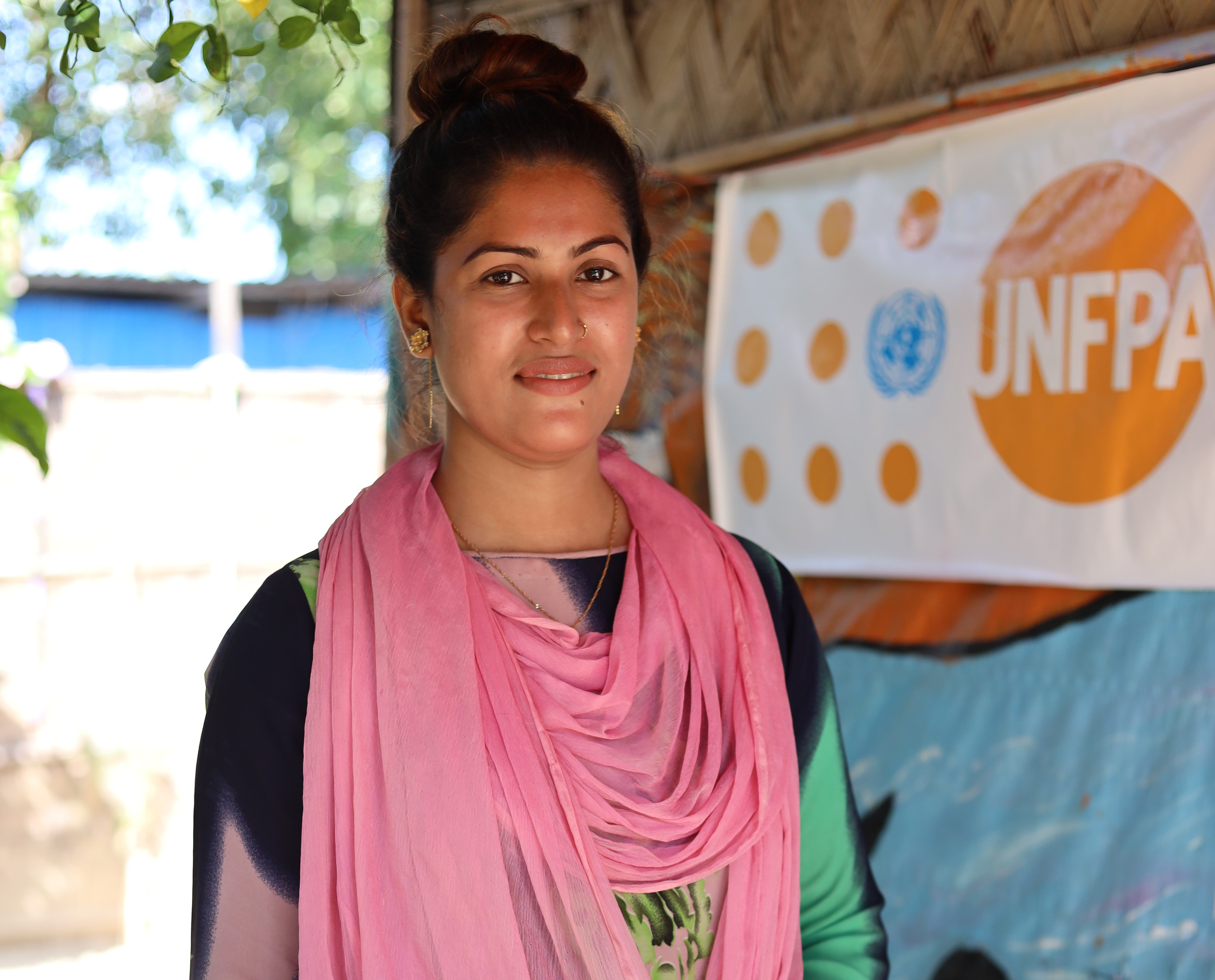 "In my opinion, henna-making is definitely one of our most successful activities," she adds. "We try to organize a session at least once a month, but because of COVID-19, we have had to reduce the size of the groups. However, with smaller groups and precautions in place, we still organize games and entertaining activities so that the girls can come together, be happy!"
The girls participating in the henna-making workshop are very enthusiastic and interested. "We like feeling beautiful," exclaims 12-year old Sumaya while showing off her dramatic black eye makeup. "I feel good when I make others feel good by painting on their arms and hands," she continues. 
 "When I am stressed or sad, henna calms me down. It gives my mind something to focus on.  I also like meeting new people here and talking to the caseworkers about different things. I can ask them anything!" adds 10-year old Ayesha.
The fact that Ayesha has many questions she would like to get answers to is not surprising. Young girls living in unstable living conditions are usually more exposed and vulnerable to dangers, including sexual exploitation and child marriage. Many of the girls participating in the henna workshop have already become painfully aware of these issues in their personal lives.
"As we reach our first menstruation, family members tell us that our transition to adulthood has started. At that moment, we are supposed to stay home and get married," sighs 18-year old Shaju, another frequent visitor to the Women Friendly Spaces.
UNFPA's role in raising community awareness on sexual and reproductive health and rights and gender-based violence is of crucial importance in the Rohingya camps. That's why in addition to the carefree creative activities, the Women Friendly Spaces organize awareness raising sessions, where girls are able to learn and ask questions about these sensitive topics that are not easy to openly discuss. The sessions follow the modules of UNFPA's Gender Equity Movement in Schools (GEMS), which is in the process of being mainstreamed in schools around the country.
With the life skills cultivated by these activities, the Rohingya girls, and those of the host community in Bangladesh, are able to recognize the threats facing them and find the right means to protect themselves.