The term 'gender equality' is a common phenomenon in today's day and age. It happens to be one of the top most goals to be achieved for a better, just world. 'Gender equality' strives for equal outcomes for women, men and gender-diverse people. But is that really the solution to everything?
In reality, every individual has different needs. No matter how much we strive for equality but the point of fact is, we are not all equal. There are stark differences in race, circumstances and prospects. Gender equity recognises that women and gender-diverse people are not in the same 'starting position' as men. This is because of historical and social disadvantages. Treating women, gender-diverse people and men equally might not actually be fair. In fact, it can create further disadvantage. Gender equity measures are often needed to level the playing field.
Globally, very few national health policies have integrated gender equity in their goals, targets or strategies.  There are some micro-level experiments with gender equity in health interventions but only a few have been systematically evaluated.  These experiments have focused mostly on training of women and men rather than on gender equity in service delivery settings and the organisation and management of health services.
The Government of Bangladesh, through the Ministry of Health and Family Welfare (MoHFW) seeks to create an enabling environment whereby its people have the opportunity to reach and maintain the highest quality of health as a fundamental human right. In order to achieve Sustainable Development Goals (SDGs) relating to health and well-being for all and gender equity, a more compelling and nuanced understanding of gender is needed.
According to the World Economic Forum's Global Gender Gap Index, 2018, Bangladesh is the top most gender equal country in South East Asia. It has closed almost 48% of its overall gender gap with advances in economic, education, health and political indicators. It has achieved encouraging milestones, including increased immunization coverage, improved access and equity in maternal and child health, but there are still many challenges that may hinder SDG achievement if not addressed properly.
"As Bangladesh enters into the arena of becoming a middle income country, health is one of the key criteria of achieving demographic dividend- health, education and decent work. Just having a population of a 167 million does not guarantee demographic dividend, it is conditional upon these three key basic social services," according to Eiko Narita, Deputy Representative, UNFPA Bangladesh who was a special guest at a workshop organized by MoHFW entitled as "Gender Equity Reporting in Health: Bangladesh Scenario" on 7 November, 2019 at Intercontinental, Dhaka.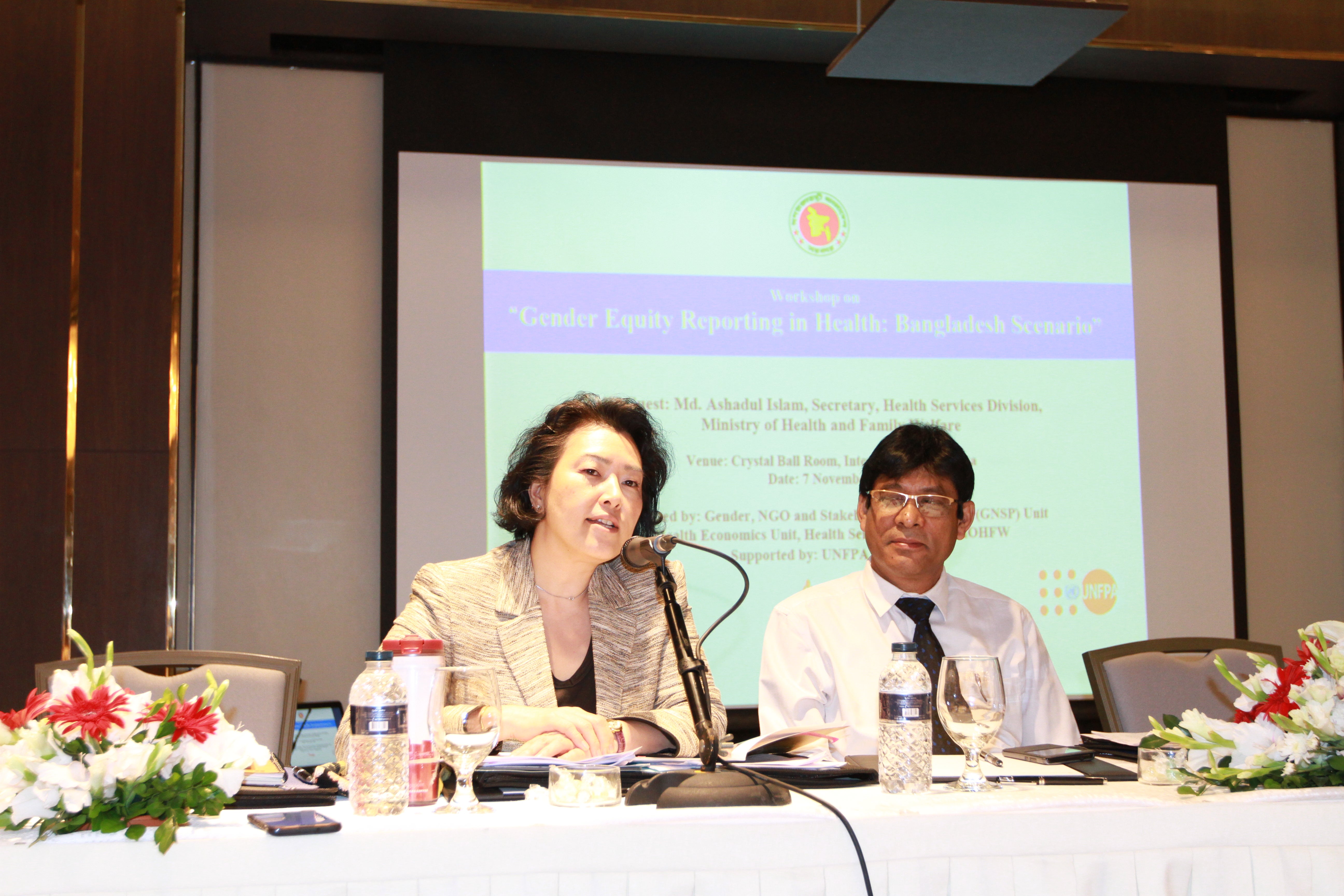 A study report on "A Situation Analysis of Gender Equity in Health Systems of Bangladesh; What Does the Statistics from Public Sector Tell Us?" was disseminated at the workshop. The study was undertaken by Gender NGO & Stakeholder Participation Unit (GNSPU) a mandated functional unit of MoHFW to ensure gender responsive service delivery in health. GNSPU was supported financially and technically by UNFPA, Bangladesh and icddr,b respectively. The Directors General of Family Planning and of Health Services were present as special guests.
The aim of the study and the subsequent workshop was to provide insight on the gender equity situation in the health sector in Bangladesh and to generate recommendations on how to enhance gender equity monitoring and reporting based on global practices. A set of gender responsive indicators were identified with relevant sources of information and were analysed to produce a baseline report for monitoring progress towards achieving Gender Equity in the health system of Bangladesh. In order to ensure a sustainable future, programmes and services need to be more equitable so that the ones in need receive what they are deprived of for a better, healthier life.