Parvin Jahan's journey in many ways exemplifies the ICPD promise. A family planning veteran of almost 40 years, Parvin has seen much change and progress in women's healthcare in Bangladesh over the last four decades. But for Parvin, there is always more to learn, and always new people to reach.
 "I joined the Directorate General of Family Planning as a family welfare visitor in 1983, when I was just 19 years old," Parvin remembers. At her father's insistence, Parvin was married while she was still in school to a man 25 years older than she. But her husband, despite their age gap and traditional background, was supportive and she was able to complete her studies after she got married. Parvin says that, "this fight against the odds gave me much-needed inspiration and a drive to and to stand my ground whenever I was underestimated by my colleagues or family members."
This courage was vital, as Parvin notes a stark difference between the society and people of 1983 and those of today.
"Men were far more conservative, and made it much harder for us to consult with them and their wives about the importance of family planning." There was a great deal of stigma and lack of awarness about family planning methods; "men feared that FP methods would make them less of a man… and women feared that FP methods could harm their bodies". Not only were condoms taboo, "men didn't even let the women in their households take [female contraceptives]."
Society also marginalized women's sexual health care issues. Many mothers died because they didn't show up for antenatal and postnatal care to prevent eclampsia and post-partum haemorrhage. Parvin remembers, "I saw a number of unfortunate cases which could easily have been prevented. For example, in 1987, a patient whose uterus was just two fingers wide went to a pharmacy instead of consulting me. She asked for Oxytocin to manage her pain and, because pharmacies don't always have the necessary technical expertise, they just gave her the medication. But Oxytocin should only be provided when the uterus is at least four fingers wide open. Because she took it too early, we had to perform an emergency C-section. Sadly, we couldn't save the child."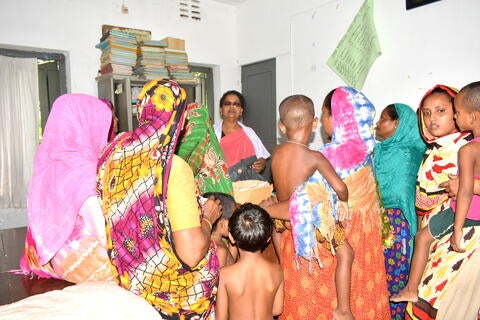 "Another time in 1988, a Dai [unskilled birth attendant] literally pulled out the mother's uterus, not just killing her child but also making the mother barren for the rest of her life. I was speechless with grief when I visited her."

 
Then as now, Parvin relied on education and training to combat ignorance, fear and misconceptions. Wrongly but strongly held beliefs can ruin or even end lives. Parvin knows this from personal experience. "Despite being married off early, I did not have children for the longest long time. Our society always blames the woman. So our families kept blaming me and were convinced it was my fault. But then, after I received one of my trainings, I realized that I should ask my husband to take a test too. At first, he declined, but when he did go, the doctor made it clear that it was my husband who was the one with the problem. After he took the necessary treatment, I became pregnant with a son. Five years later, I gave birth to my daughter.
 

"I always say, if I hadn't been trained and educated, I would have been blamed forever. I am empowered by the fact that I can easily communicate and command the attention of vulnerable women, helping them solve their problems, one at a time – just as I solved mine."
Parvin Jahan has received a number of training courses and sessions over the past 35 years – most notably, a six-month course of midwifery training and a five-day refresher training, both facilitated by UNFPA.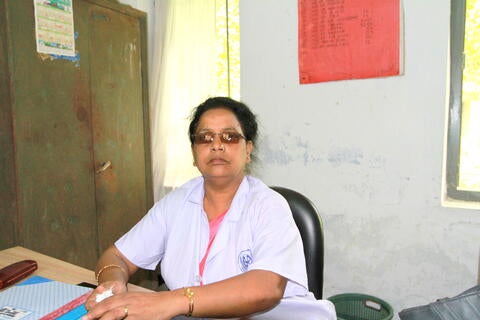 To increase capacity for emergency obstetric and newborn care, UNFPA Bangladesh has been working closely with the Directorates General of Health Services, Family Planning,  and Nursing and Midwifery. Professional midwives provide high-quality sexual and reproductive healthcare. Investment in midwives is cost-effective and they are able to avert two-thirds of maternal and newborn deaths. Because midwifery is a relatively new profession in Bangladesh, UNFPA is working at every level to ensure that well-educated midwives can enter the workforce and support women and families.
Today, Parvin visits about eight satellite clinics, assisting with four to five normal deliveries on average each week. She is extremely well respected in her community, and has leveraged her influence with community leaders to help strengthen family planning training activities. She looks back to the beginning of her  career, when the village chairmen  would refuse to speak to her  and recalls "back then I would look for people, now people look for me."  She has suffered personal tragedies, but her spirit remains strong.
"I have come a long way. Despite losing my husband and my son, I am not dependent on anyone and I have my own house, so I can devote myself to helping other women. My greatest joy in life is to serve others."