Women and girls in Bangladesh are frequently subject to violence and abuse due to deep-rooted gender inequality and discriminatory sociocultural norms and practices that reinforce patriarchal systems and structures. High rates of child marriage, maternal mortality and unmet family planning needs make it almost impossible to eliminate gender-based violence (GBV). Notes Sonia Parvin, a sub-inspector at the Kamrangichar police station, "Because the idea of women being dependent on men is so embedded in our culture, remaining in an abusive relationship is normalized. This is what I struggle with every day. 
"Each day a new victim of GBV comes to me, and each day I try to make her realize her rights and the difference between right and wrong. But many times, the moment we are about to start a lawsuit, they lose their nerve and back out. Some even go missing for months at a stretch. They lack the courage to start anew. Social stigma and family pressure play the biggest part in this, making them unable to view their lives from a different angle.
"These are some of the biggest challenges I face in dealing with cases of violence against women. But I've had some successes too. Last year, a 15-year-old village girl was brought to Dhaka by her class teacher's husband with false claims of getting her work. Instead, he rented an apartment, pretending she was his wife and abusing her for months on end. After the neighbourhood suspected violence and abuse, they interrogated the girl and then came to us. We arrested the man, who's still behind bars, and returned the girl safely to her family who were unaware of where she had been.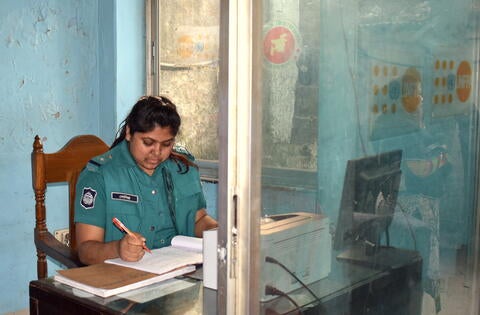 UNFPA's help in recruiting female officers in police stations for Women Help Desks (WHDs) has made it easier and more secure for vulnerable women and girls to reach us. UNFPA has also played a huge part in my capacity building due to the countless field visits I have had to make, enabling my understanding of grassroots problems. The UNFPA staff are always there to guide me, along with my senior colleagues, if I fail to understand something, and – after my mother – they are my biggest source of inspiration in my dedicating myself to working for a safer, more gender-neutral world. 
However, this may not be enough! We must arrange workshops, use strategies like advertisements and commercials to reach the maximum number of women, to enlighten them about their rights, and the value of dignity and self-respect. Unless women truly understand their self-worth, GBV cannot be reduced."
In 1994, representatives of 179 countries attending the International Conference on Population and Development (ICPD) created a Programme of Action which affirms the importance of ending gender-based violence and harmful traditional practices against women and girls. ICPD also reaffirmed the significance of investing in sexual and reproductive health, including family planning, as a precondition for women's empowerment. Fulfilling #ICPD is essential to achieving #SDGs. 
Learn more: www.unfpa.org/ICPD