UNFPA recognized Mr. Ahasan Uddin Bhuiyan Abir, the Information Technology (IT) Officer of the Bangladesh Country Office (CO), for his decade-long dedicated service, during an all staff meeting on 20th December 2018.
Mr. Abir has been instrumental in achieving UNFPA's mandate in Bangladesh with his sheer passion and wholeheartedness ever since his initiation in the CO in 2008.  He started his career with UNFPA back in 2005 with a placement in the Bangladesh Planning Commission, which was followed by another year-long placement in the Bangladesh Bureau of Statistics (BBS). Abir, eventually, joined the CO with a Fixed Term contract in 2008. He now has over 10 years of experience serving as an IT officer with UNFPA.
Dr. Asa Torkelsson, UNFPA Representative in Bangladesh, congratulated Mr. Abir on his achievement and thanked him for his valuable contribution to the Fund. The Representative then handed over the Certificate of Accomplishment, signed by the UNFPA Executive Director, Dr. Natalia Kanem, along with a small token of appreciation from the UNFPA Headquarters.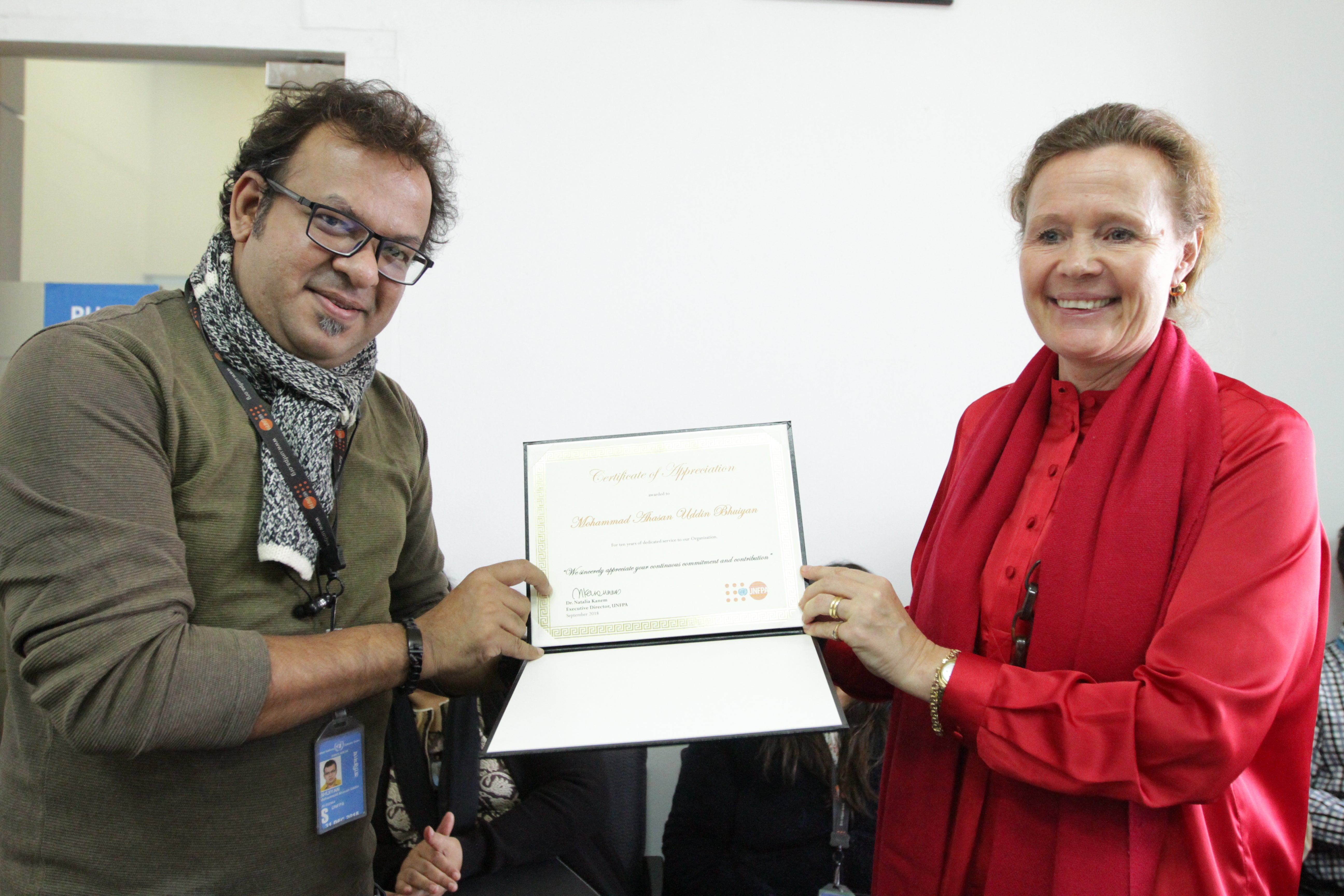 After receiving the accolade, Mr. Abir took a trip down the memory lane and reflected on his journey so far with UNFPA. He said, "Initially, I only applied at UNFPA on hopes of working for the UN to advance my career and prospects. But with time, this place and its people have grown on me. Safe to say, today, UNFPA's 9-ball logo  resides in my heart."
"What feels even better though," he added, "is when your colleagues appreciate your hard work. In 2016, I was recognized as the Best Operations Staff and then again in our year-end meeting last year, I was felicitated yet again. Being acknowledged by our Executive Director, and being handed out the certificate by our Representative Dr. Asa Torkelsson was an absolute honour for me."
But what drove him the most to pursue a decade-long career in UNFPA?
"Yes, there are a lot of UN agencies and NGOs today, but hardly any that does so much to save the lives of mothers and newborn babies. One of my cousins lost her mother when she was still a toddler. She was brought up by elder sisters and other family members and faced various adversities throughout her life" revolved Abir.
"I still wonder how different her life would be if her mother was still alive," he pondered aloud. 
The significance of UNFPA according to Mr. Abir  is in what it stands for. "UNFPA commits to accomplishing 3 Zeros- zero maternal death, zero unmet need for family planning and zero gender-based violence against women and girls. What can be nobler and magnanimous than that?"
During the most recent Rohingya influx in August 2017, a large number of Rohingya people have fled Myanmar's Rakhine State to escape the military crackdown and taken shelter in Bangladesh. This emergency posed added responsibilities for almost everyone working in the humanitarian sector, including the likes of Mr. Abir, who was actively serving at the time. Mr. Abir played an integral part in supporting UNFPA during the emergency humanitarian response.
He stated, "During the emergency, a good number of national and international staff were visiting the sub-office. I had to make sure they all received full support, guidance and security. Being responsible for so many lives was obviously intimidating but at the end of the day, all's well that ends well."
In retrospect, Mr. Abir found his journey as a rewarding one. He reflected, "UNFPA not only instilled sound knowledge in me, but it also gave me the opportunity to hone and showcase my analytical abilities plus find solutions to critical challenges. But most of all, I have found life-long friends in people who happen to be some of the best professionals in the country and worldwide. If given a choice, I would love to continue working here forever".