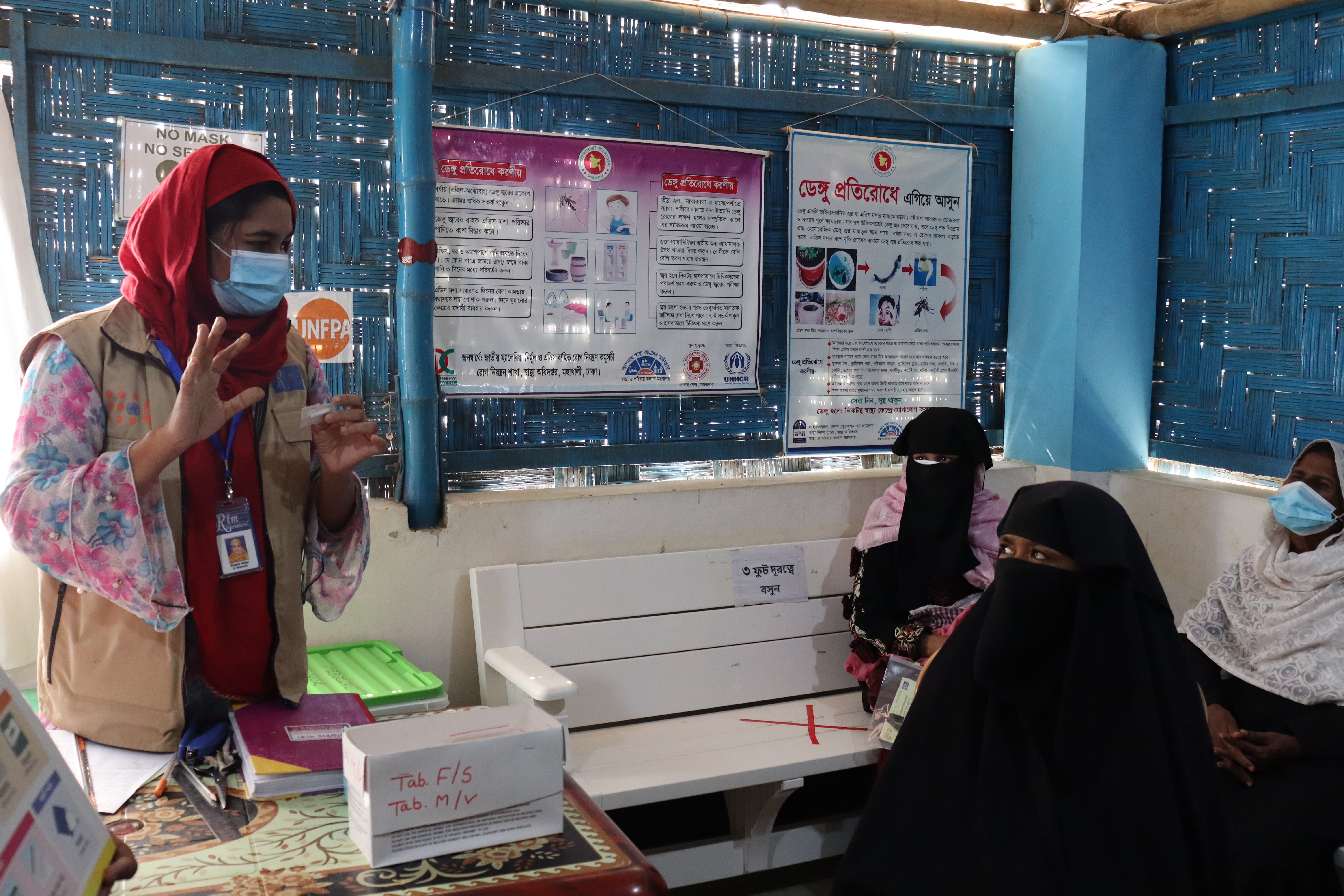 A counselling session with patients inside the health facility at camp 4 extension about the available modern family planning methods 
Access to safe, voluntary Family Planning is a human right. Family planning is central to gender equality and women's empowerment, for instance, when women and couples are empowered to plan whether and when to have children and how many children to have, women are better able to take part in the decision making processes inside the household and in their communities.
This year, in response to this call to action, UNFPA, partners and the Government of Bangladesh celebrated Family Planning week in the Rohingya refugee camps in Cox's Bazar from 18th to 23rd December 2021. A combination of activities, including community awareness and engagement, advocacy with key decision-makers such as government officials, Imams and Mahjis and dispensing of the five available modern methods of Family Planning were conducted. The available methods include Long-acting reversible contraceptives (implants and intrauterine devices / IUD) and short-acting methods which are condoms, oral contraceptive pills (OCP) and injectables. 
At the community level, Community Health Workers (CHWs) carried out a range of activities including Family Planning counselling sessions and community courtyard meetings on targeting men, women and adolescents of reproductive age to raise awareness on Family Planning and related services available in health facilities in the camps and host communities.
Prior to and as part of the week-long celebrations, a one-day orientation on key and standard Family Planning messages was organised for CHW supervisors. This activity was organised to help raise awareness and increase demand for Family Planning services during the Family Planning week and thereafter. The CHW supervisors in turn oriented CHWs under their supervision. A total of 15 CHW supervisors during the campaign week.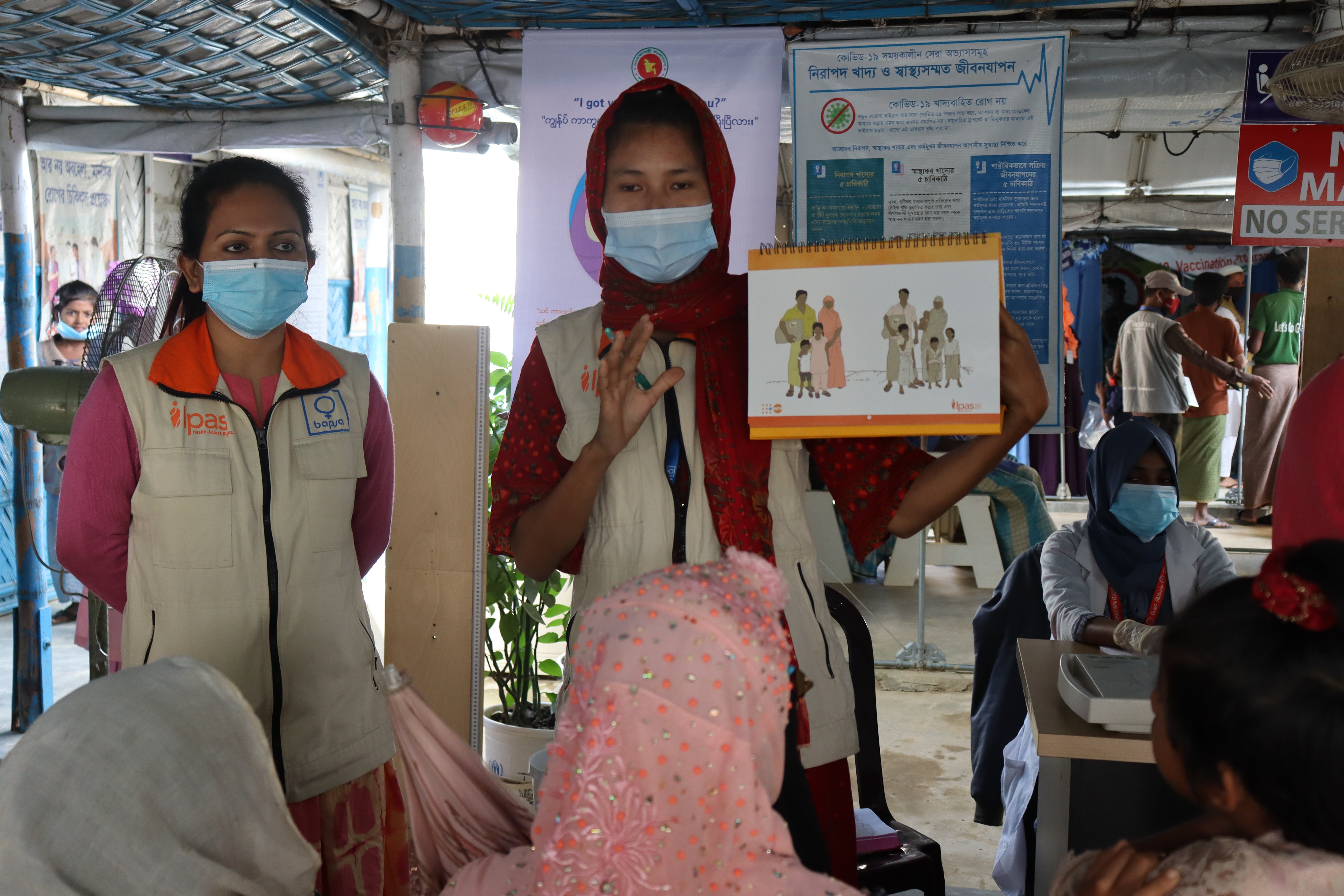 Staff conducting awareness and counselling sessions on family planning for the patients waiting to receive services
A total of 1432 women, girls, men and boys of reproductive age were reached with modern methods of Family Planning during the Family Planning week. Subsequently, 542 women and girls from the Rohingya refugee camps were provided with modern methods of Family Planning including 30 who received Long-Acting Reversible Contraceptives (implants and IUDs).
Family Planning counselling sessions and methods dispensed at health facilities in the Rohingya refugee camps are making a difference at an individual and family level - one by one 
25 years old Sabikunnahar, who is a mother of two, came to the Primary Health Care Centre in camp 4 Extension for a long term method after she and her husband jointly decided to use a long-acting reversible Family Planning method. When asked about her decision she said,
"Now, my husband understands my situation, we already have two children, one is 5 years old and another is 6 years. Initially, my husband was not ready to decide on a long term method, but after he attended the awareness session conducted by apa's (health care providers), he understood the consequences of multiple pregnancies and the impact on my body and we finally jointly agreed to take a long term method."
25 years old Sabikunnahar, a mother of two and her husband decided to use a long-acting reversible family planning method
Dr. Mahmuda Akter, Clinical trainer and a mentoring officer from IPAS said,
"Mostly women are likely to go for the short term Family Planning methods due to religious beliefs. We are working with Imams (religious leaders), majhis and community leaders inside the camps to emphasize the importance of Family Planning in light of religion. During Family Planning week, our field facilitators conducted counselling in various set-ups, organized family planning campaigns and conducted awareness-raising sessions with flip charts and other necessary materials."

   
A courtyard session, organized inside the community to raise awareness on the importance of family planning                                                                                                                                              
UNFPA works at every level to improve access to family planning and empower individual choices. UNFPA along with the Implementing Partners like RTMI, Hope Foundation, IPAS, PHD and IRC are working closely with the Government of Bangladesh to support family planning for the Rohingya refugee community. In 2021 UNFPA as the lead agency for the SRH Working Group in Cox's Bazar, coordinated the development, endorsement and approval of the Cox's Bazar Family Planning Strategy by the Government and other stakeholders. UNFPA is also, ensuring a steady, reliable supply of quality contraceptives; strengthening the national health systems; advocating for policies supportive of Family Planning and gathering reliable and timely data to support decision making.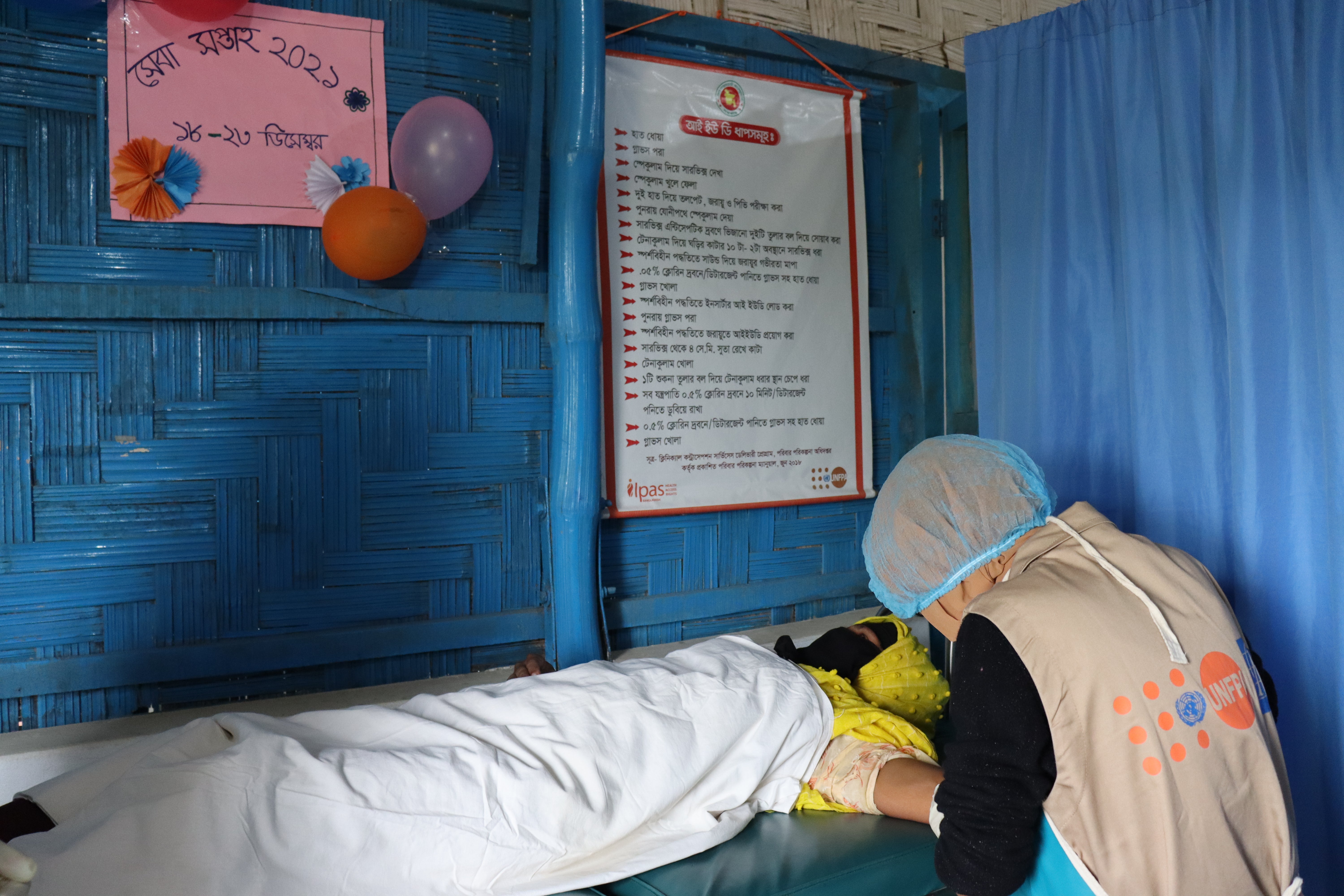 A Rohingya woman receiving a long-acting family planning method inside the health facility
Thank you for the generous contribution of the US Department of State- Bureau of Population Refugees and migration.