The Australian Government has committed AUD 1.5 million to scale up UNFPA's humanitarian response in Cox's Bazar District, Bangladesh, amid the Rohingya refugee crisis. Funds will strengthen sexual and reproductive health services and gender-based violence response and prevention for Rohingya refugees and host communities.
This support comes at a critical time with over 600,000 Rohingya refugees entering Bangladesh in just two and a half months, of whom over half are women and girls. Close to 30,000 are pregnant and around 55,000 are breastfeeding, according to the Inter Sector Coordination Group Needs and Population Monitoring Assessment released on October 18th.
Most disturbingly, all Rohingya women and girls are at an increased risk of experiencing some form of gender-based violence, from sexual assault to a denial of resources.
Australia's support will help deploy additional midwives, doctors and paramedics, as well as improve the infrastructure of government health facilities to maximize the quality of critical maternal and newborn health services. The support will also supply 30,000 Dignity Kits so women and girls can access life-saving aid with less fear of facing violence and social stigma. Additionally, it will strengthen safe spaces dedicated for women and girls.
Australian High Commissioner to Bangladesh, HE Ms. Julia Niblett, highlights the priority accorded by the Australian Government to the needs of women and girls in Cox's Bazar.
"The accounts of sexual and gender based violence are deeply concerning," she says. "The Australian Government's humanitarian assistance is focused on supporting and protecting women, girls and children, so we are very pleased to commit our support to the scale up of UNFPA's services."
Iori Kato, Acting Representative of UNFPA Bangladesh comments, "UNFPA alone cannot meet the astounding, growing needs of refugees and host communities."
"We are grateful for the Government of Australia's commitment to meet the often overlooked needs of women and girls in crises for health, safety and dignity, understanding that these interventions ultimately save lives and build back better."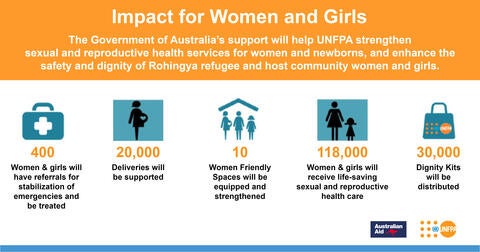 For more information, contact:
Rachel Tze, UNFPA Communications Officer - tze@unfpa.org +8801779784860