Midwives are prepared with gumboots and rain gear to assist women to clinics for care.  The conditions this week have been testing.     
Babies are born in crisis.  
Monsoon Rains Bring New Challenges for Expectant Mothers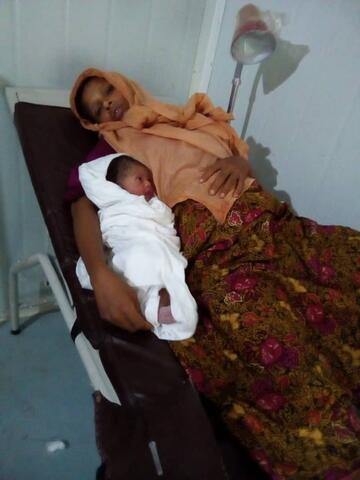 A new baby is born last night in a UNFPA health facility.  Midwife Jannat and Akhi are delighted for mother Syeda.   Nearly 3,000 newborns have arrived in UNFPA birthing units since August 2017.   
For months, the UN Agencies and its partners, have worked around the clock in support of the Government of Bangladesh, to mitigate the risks. Teams have put in new bridges, built drainage canals, strengthened footpaths and provided over 83,000 families with upgraded shelter kits so they can better protect themselves. More than 30,000 families have also received pre-monsoon "tie down" kits, consisting of rope and steel pegs, to better anchor their shelters in high winds. More will be distributed in coming days.
UNFPA Women Friendly Spaces and Health Clinics were assessed and strengthened.   Many are not permanent structures, the combination of bamboo and plastic sheeting is challenging in wet and windy conditions. 
The result of the first heavy monsoon rains are frightening, reports of 125 landslides in many different camp areas, including where UNFPA works, that have killed several refugees and injured others. Nearly 6,200 refugee families and households – a total of more than 27,000 people – have so far been affected.
UNFPA facilities have been providing service to pregnant mothers and those who are sick.  Midwives and case workers have weathered the storms and walked on slippery and waterlogged roads to our facilities.   There is still no electricity after four days in many of the surrounding camp areas, creating further difficulties for those midwives and caseworkers who live in the immediate area or camp.     
Syeda, having her third child was caught in the rains and in great pain.  Fortunately yesterday she was escorted by midwives and transported by the emergency transport in camp called a 'Tom Tom' to get to the health clinic in time.   Her baby girl was born and is well and safe.  She said she was 'very happy with the service she received.'
UNFPA provides 'Clean delivery kits' to newly pregnant mothers to ensure that if they are unable to come to a clinic a home birth is possible.   With the rain it is feared many women will choose not to come or be able to access a health facility.
The clean delivery kit contains a sterile plastic sheet to lie on, soap and sterile gloves for the delivery attendant, as well as a clean razor blade and clamps for the umblicial cord.  It also includes clean cotton towels for mother and baby, and a plastic bag for the placenta.      
These materials are essential in this type of crisis setting, where birth attendants, who may be a trusted family friend, often lack access to equipment creating serious infection risks.  Nearly 12,500 clean delivery kits have been given to pregnant women by UNFPA midwives over the past nine months.  
Fortunately Syeda made her journey to the clinic and midwives Jannat and Akhi safely delivered her baby girl, at 3.2kg. No name yet. Many more women will give birth over the next three months of the wet season, this will be a challenge.  
As assessment teams work within the camp a clearer picture of the damage and repair work required will evolve.   More importantly the relocation of those in serious risk of further flooding and landslides, some 42,000 remains crucial, access to flat land a priority.