Bangladesh government signs agreement with four UN Agencies
The Ministry of Health and Family Welfare (MoHFW) of the Bangladesh Government and four United Nations (UN) agencies signed a US$ 35 million value agreement on March 21, 2019 to strengthen the Health, Nutrition and Population (HNP) services for the Rohingya refugees. Signatory agencies from the UN included- International Organization for Migration (IOM), United Nations Population Fund (UNFPA), The United Nations International Children's Emergency Fund (UNICEF) and World Health Organization (WHO).
Provided by the World Bank through the on-going 'Health Sector Support Project (HSSP) of the Bangladesh Government' the financing will assist in strengthening the government's stewardship role, enhancing the community and primary HNP services, and developing referral and inpatient services for the Rohingya refugees.
Hon'ble Minister of MoHFW, Zahid Maleque, MP, who was present as the Chief Guest of the ceremony said, "The MoHFW has been providing HNP services to the Rohingya ever since the influx in close collaboration with UN agencies and local/ international NGOs. However, this is placing an immense pressure on an already resource-constrained service delivery system in the area." 
"From the total fund, the four UN agencies will receive US$ 35 million, which will be utilized for shelter and healthcare of the Rohingya refugees. Within the amount, US$ 12 million will be mobilized by IOM, US$ 9 million by UNFPA, US$ 8.5 million by UNICEF and US$ 5.5 million by WHO," he added.
"This day marks the culmination of months of close coordination and teamwork involving the Government of Bangladesh, World Bank, Ministry of Health officials in particular along with staff of the four UN agencies: IOM, UNFPA, UNICEF, and WHO," UNFPA Representative Dr. Asa Torkelsson said speaking on behalf of the signatory UN agencies.
"Together we were able to design a model and a first of its kind integrated project to support the Government of Bangladesh in primarily promoting the health and wellbeing of the Rohingya community living in Cox's Bazar," she added.
UNFPA will utilize this fund to provide sexual and reproductive health services for Rohingya refugees, focusing on emergency obstetric care and family planning services in selected health posts within the camps, selected Women Friendly Spaces, and selected government health facilities in the area.
On behalf of the MOHFW, all four agreements were signed by Prof. Dr. Abul Kalam Azad, Director General, DGHS while, the organization heads of the UN Agencies signed on behalf of their respective agencies.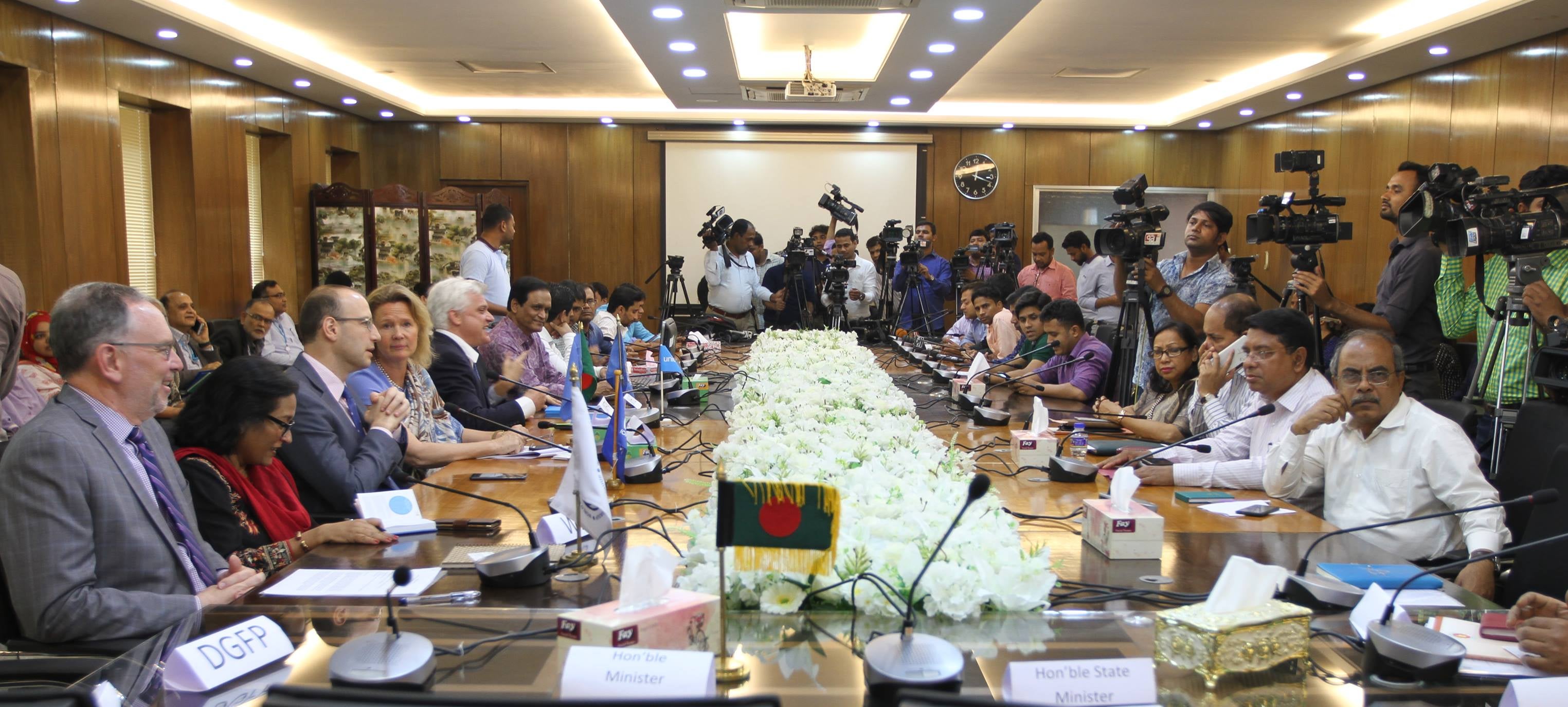 Among other guests, Bablu Kumar Saha, Secretary (In- Charge) of Health Services Division and G.M. Saleh Uddin, Secretary, Medical Education and Family Welfare Division of MoHFW were also present in the signing ceremony.