Ensuring rights and choices for all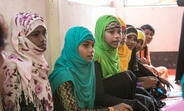 12 August 2018
COX'S BAZAR, Bangladesh - The healing power of art and creativity is on full display in the Kutupalong Rohingya refugee camp in Cox's Bazar, Bangladesh, this International Youth Day. Children and young people there and in the surrounding host communities are holding an art exhibition at the local community centre to celebrate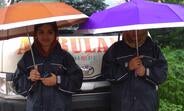 14 June 2018
The First of the Monsoon Rains in Refugee Settlements
Persistent heavy rain and wind earlier in the week have created huge challenges for the humanitarian community. UNFPA Health and Women Friendly Spaces are providing life-saving services for women and girls. More rain...

The rains returned heavily after 23 July with more than 463mm of accumlated rain, nearly...

10 months into the response over 700,000 people remain settled into the main Rohingya...
No vacancies currently available