Ensuring reproductive rights for all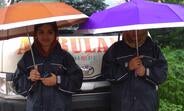 14 June 2018
The First of the Monsoon Rains in Refugee Settlements
Persistent heavy rain and wind earlier in the week have created huge challenges for the humanitarian community. UNFPA Health and Women Friendly Spaces are providing life-saving services for women and girls. More rain...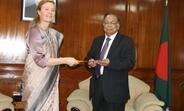 21 March 2018
The newly appointed UNFPA (United Nations Population Fund) Representative in Bangladesh, Ms. Asa Britta Torkelsson, formally presented her credentials to the Foreign Minister, Mr. Abul Hassan Mahmood Ali, MP at his office on 21 March 2018. A national of Sweden, Ms. Asa Torkelsson brings with her an extensive and distinguished

Nine months have passed since the crisis began 25 August 2017, where over 693,000...

The 2017 Annual Report covers the key results UNFPA has achieved in each of its...
No vacancies currently available