Ensuring reproductive rights for all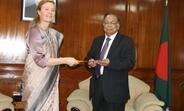 21 March 2018
The newly appointed UNFPA (United Nations Population Fund) Representative in Bangladesh, Ms. Asa Britta Torkelsson, formally presented her credentials to the Foreign Minister, Mr. Abul Hassan Mahmood Ali, MP at his office on 21 March 2018. A national of Sweden, Ms. Asa Torkelsson brings with her an extensive and distinguished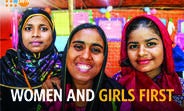 8 March 2018
International Women's Day 2018 UNFPA Message
The economic inequalities plaguing much of the world today are reinforced by many other forms of inequality, including inequalities in sexual and reproductive health. More than 200 million women—many of them poor and...

Eight months have passed since the crisis began 25 August 2017, where over 693,000...

UNFPA is preparing for imminent naturals diasters and the complex, protracted situation...
No vacancies currently available