Midwifery services are key to safe pregnancy and childbirth as well as healthy newborns and family planning, thus contributing to the achievement of SDG-3: SDG 3.5 and 3.7 in particular. 
On the eve of the World Population Day 2019, UNFPA and Telenor Health Bangladesh signed an agreement to create "Mobile Midwives", who will provide digital healthcare and midwifery services to 10,000 pregnant women in urban slums in Dhaka 24/7. The pilot project is designed to utilize the potential impact of combining UNFPA's landmark midwifery model in Bangladesh and Telenor's mobile technology platforms with the specific aim to addressing two critical Sexual and Reproductive Health needs of urban slum dwelling mothers: (i) increasing the rate of facility based deliveries, and (ii) increasing consideration and uptake of long-acting family planning methods.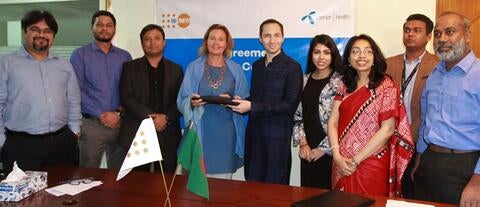 In 2008, the Government of Bangladesh endorsed the strategic directions on midwifery by creating 3,000 midwifery posts. Since then, UNFPA has been supporting the Ministry of Health and Family Welfare in midwifery education and placing them in different public facilities to provide direct services to pregnant women. 
The Fund is also advocating for professional autonomy of midwives and helping the public sector to design and implement innovative approaches to advance the ICPD agenda in Bangladesh.
According to the Urban Health Survey 2013, only 13% of slum dwellers have easy and affordable access to free public health care facilities and most of them have limited access to private health care, because of its high cost leading to a catastrophic health expenditure. In the absence of free public-sector health care provision in urban areas, UNFPA Bangladesh prioritizes the need for affordable family planning and maternal healthcare services for low-income urban population. 
Under this partnership agreement, the intervention for the first phase will be for 6 months in Mohammadpur slums in Dhaka, covering some 10,000 pregnant women. 
This first phase of the project is expected to provide significant evidence and learning to incorporate into the second phase. Therefore, UNFPA Bangladesh will employ a robust documentation strategy to track the progress and learnings of the innovative intervention. 
Dr. Asa Torkelsson, UNFPA Representative in Bangladesh and Mr. Matthew Guilford, Chief Growth Officer of Telenor Health Bangladesh signed the agreement on July 10. 
Mr. Guilford opened the ceremony showing his reverence towards UNFPA's mandate, stating, "I am very excited about this. Our ambition is to build on the work UNFPA has done in extending midwifery services in Bangladesh and finding a way to leverage on that in order to bring these services within the reach of marginalized population."
Sharing her views, Dr. Torkelsson said, "Working with the private sector on Midwifery issues is completely a new concept in Bangladesh. As UNFPA works to deliver a world where every pregnancy is wanted, every childbirth is safe, and every young person's potential is fulfilled, innovative, technology-based solutions will play an important role in enhancing capacities of service providers and meeting the unmet needs of those still left behind— the urban slum population in Bangladesh in this instance."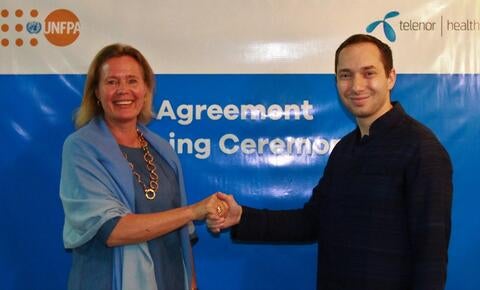 "This should be a perfect model to showcase at the ICPD+25 in Nairobi, both as an example of the role the private sector can play in advancing the ICPD agenda, and how the unfinished ICPD agenda can be finished by path-breaking partnership. The Mobile Midwives project brings in the strengths of UNFPA and the rapidly expanding mobile industry together to find a solution to the growing SRH needs of the marginalized population," she added. 
The Mobile Midwives project, one of UNFPA Bangladesh's urban health interventions, strives to ensure that family planning and maternal health services are well integrated and within the reach of the marginalized population. It will also look to ensure that the facilities and systems always address issues of gender inequality and gender based violence stemming from health related issues and services. 
Taking the demographic shifts, proliferation of technologies and emerging forms of media in Bangladesh into account, the planning, design and implementation methodology of the Mobile Midwives are embedded in the principle of equity and partnership, involving all key players in urban health—the Ministry of Health and Family Welfare and the Ministry of Local Government, Private Hospitals and Clinics, Civil Society Organizations, NGOs, etc. in the project. 
This project envisions to bring in innovative solutions and a broader range of partners together to resolve the health financing needs to deliver bold, integrated, and innovative solutions that drive transformative change for women and girls.