জাতিসংঘ জনসংখ্যা তহবিল (ইউএনএফপিএ) বাংলাদেশ, এর জন্য ২০১৮ সাল ছিল একটি সফল বছর। 
এই সফলতার জন্য, ইউএনএফপিএ বাংলাদেশ ধন্যবাদ জানাতে চায়, বাংলাদেশ সরকার, দাতা সংস্থাসমূহ, প্রকণ্প বাস্তবায়নকারী সংস্থাসমূহ এবং সর্বোপরী ইউএনএফপিএ বাংলাদেশের সকল কর্মকর্তা ও কর্মচারীদের। 
২০১৯ এর নতুন প্রভাতে ইউএনএফপিএ বাংলাদেশ প্রতিজ্ঞাবদ্ধ এমন একটি দেশ গড়ার, যেখানে প্রতিটি গর্ভধারন হবে কাঙ্ক্ষিত, প্রতিটি সন্তানের জন্মগ্রহন হবে নিরাপদ এবং প্রতিটি কিশোর কিশোরী এবং যুব এর সম্ভাবনা পাবে পূর্ণতা।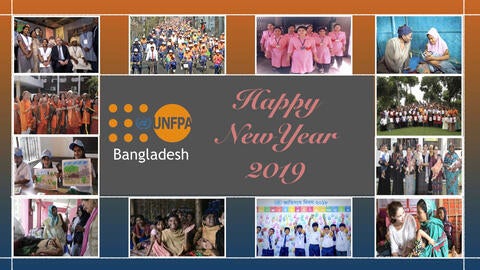 Thank you 2018 for being a successful year for UNFPA Bangladesh. We express earnest gratitude to the Government of Bangladesh, our Donors, implementing partners and all of the UNFPA staffs in Bangladesh for their continued support throughout the year.
At the dawn of the new year- 2019, we promise to continue to strive for a Bangladesh where every pregnancy is wanted, every childbirth is safe and every young person's potential is fulfilled.