Rohingya Crisis: the Fastest Growing Refugee Crisis in the World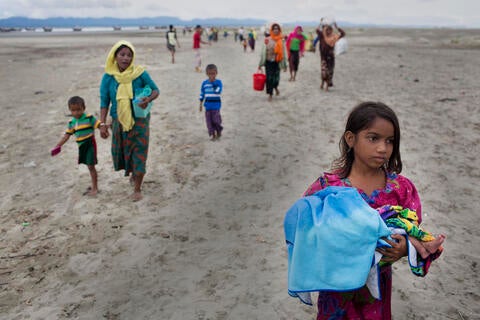 More than 655,000 Rohingya refugees have poured into Cox's Bazar, Bangladesh in four months. The pace of new arrivals has made this the fastest growing refugee crisis in the world, and the concentration of refugees is now amongst the densest globally.
The Rohingya crisis is largely feminized. Over half of the refugees are women and girls – they are the focus of UNFPA's humanitarian response. Many have reported accounts of horrific gender-based violence (GBV), including sexual assault and rape, along with wider incidents of violence that have affected their families.
There is an overwhelming need for basic and lifesaving health services including antenatal care, safe childbirth services, and access to a range of voluntary, rights-based contraception. UNFPA estimates almost 60,000 women are currently pregnant or nursing. Over 10,000 women are expected to give birth by the end of March 2018, and approximately 1,500 are at risk of life-threatening complications and will need access to functioning health facilities.
There are significant safety concerns for women and girls in the camps due to the challenges they face accessing water points, latrines, bathing areas and safe spaces. Women and girls lack adequate clothing and personal dignity items, highly restricting their mobility including during menstruation.
Increased overcrowding and limited privacy across all refugee sites are elevating safety and security risks for women and girls. Many Rohingya refugee family units are female-headed, exhibiting even greater vulnerability.

Our response
The sexual and reproductive health needs of women and girls, as well as the grim reality of gender-based violence, are often neglected or forgotten amid a humanitarian crisis. UNFPA is committed to protecting the rights and meeting the needs of the most vulnerable women and girls in the Rohingya crisis, ensuring that they can access safe, timely health services and secure their basic needs with safety and dignity.
By February 2018, UNFPA aims to reach 190,000 women and girls with lifesaving gender-based violence interventions, and nearly 300,000 women and girls of reproductive age with lifesaving sexual reproductive health interventions.
Meeting urgent reproductive health needs
UNFPA has deployed dozens of midwives, many with special training in humanitarian response, to Cox's Bazar. The midwives are supporting the health personnel already working around the clock to meet the needs of pregnant women, new mothers and newborns. They are also responding to the medical needs of survivors of sexual violence.
UNFPA is also distributing Clean Delivery Kits which contain basic supplies necessary to safely manage childbirth. These kits can mean the difference between life and death for mothers and newborns in humanitarian settings such as this one, where access to birthing facilities may not be possible.
Our 60 midwives have screened >135,000 women, provided antenatal care to >32000 pregnant women, safely delivered >1,200 babies, and referred around 210 emergency obstetric cases to higher-level facilities.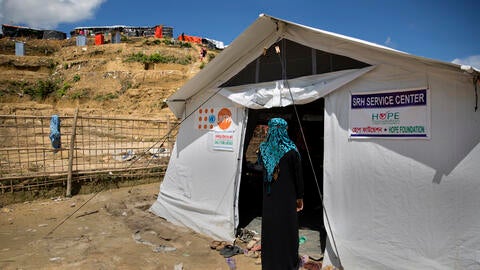 Dignity first
Thousands of women and girls are receiving UNFPA-provided Dignity Kits with seemingly simple hygiene and protection supplies such as sanitary napkins, towels, whistles, underwear, sandals and flashlights. The items help women and girls step out of isolation and more securely access vital aid, such as food and water.
Providing safe spaces
UNFPA's women-friendly spaces are providing a safe place for women and girls to rest, share experiences, and rebuild a sense of community. They are also vital points of access to information and referrals to support services, including health care, psychosocial support and counselling, and professional case management for survivors of gender-based violence.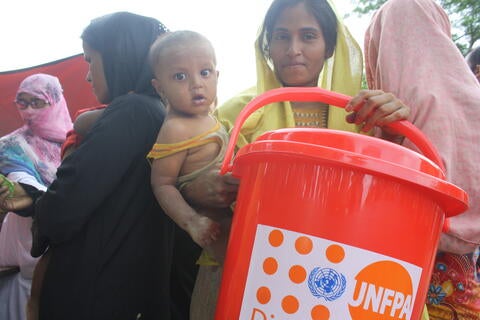 Our Women Friendly Spaces have been accessed over 52,000 times. More than 3,300 women have received specialized care and support for gender-based violence, of which >2,700 were referred to medical care. However, for every survivor who seeks help, there are many more who will not come forward - out of shame, fear of reprisal, or both.
The need remains staggering
Even all of this is nowhere near enough. With more women and girls arriving every day, supply simply cannot match demand. UNFPA appealed for $13.7 million until February 2018 to enable us to support nearly 300,000 women and girls of reproductive age with lifesaving services during the acute phase, out of a total 1.2 million target beneficiaries of the UN-NGO joint humanitarian response plan for refugees and the host community.
We are grateful for the generous support we have received so far from our donors.  However, UNFPA still has a critical $7 million funding gap to support our Rohingya response through to February 2018.
Given the sheer scale of this crisis, we urgently need more health and hygiene facilities and supplies – and more human and financial resources to provide lifesaving
services. Existing sexual and reproductive health facilities and Women Friendly Spaces are overstretched and operating at full capacity. With no end to the crisis in sight, we will be facing even more severe resource constraints from March 2018 onwards.
Learn how you can help and stay up to date on UNFPA's Response:
Situation Reports 
Discover More