The auditorium echoed with excitement, camera clicks and congratulatory wishes.
On December 3rd, 2017, thirty midwifery instructors graduated, receiving their Master's Degree in Sexual and Reproductive Health and Rights, Midwifery Science – the first group ever to accomplish this in Bangladesh.
Each was accredited through Dalarna University's innovative blended web-based master's programme launched in Bangladesh in 2016.  The programme focuses on teaching midwifery faculty in-depth about sexual and reproductive health and rights, teaching, learning, management, leadership and evidence-based midwifery care and research.
It is designed to help midwifery educators improve the level and quality of education for their students, thereby better equipping an entire generation of midwives, and those following, in providing quality maternal and newborn care across the country.
Dalarna University of Sweden partners with the Government of Bangladesh to develop midwifery education and the midwifery profession in Bangladesh, also implementing other activities in Bangladesh such as a Bachelor of Science programme, midwifery accreditation, a faculty mentorship programme, and an open online course.
The online programme's development and implementation is the joint success of Dalarna University, UNFPA and the Bangladesh Directorate General of Nursing and Midwifery. All being made possible with the generous support of the Government of Sweden, the Government of Canada, and UK aid from the UK Government.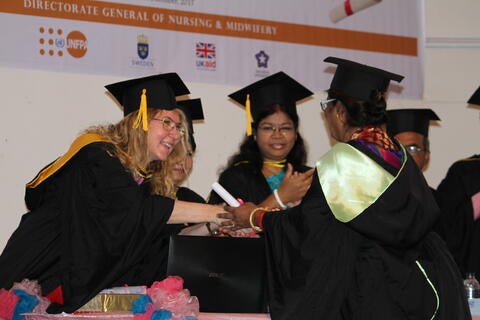 Education Her Way
In Bangladesh where opportunities are limited for women and girls, the programme has also presented a new avenue for them to pursue higher education and professional careers.
Many programme graduates expressed their appreciation for the opportunity to learn from world-class instructors while working, taking care of their families and improving their technological skills.
"We use the internet to attend seminars and have face-to-face camera conversations with instructors. We're always thankful to those who provide this programme for us. The course is difficult but provides good teaching and opportunities to enrich our learning," shares Hasne Ara Akther, Nursing Instructor from the National Institute of Advanced Nursing Education and Research.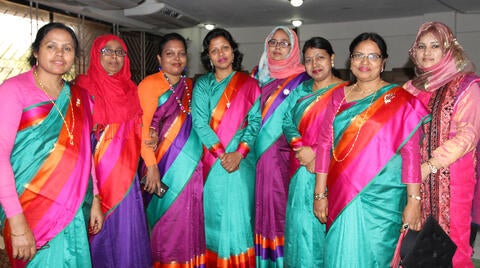 Sustainable Education for a Sustainable Future
The master's programme is a link in academic progression – including Bachelor's, Master's and PhD degrees – which Dalarna believes will ensure a "chain of sustainability" in midwifery education, regulation, practice and research capacity that Bangladesh is able to champion to improve maternal and newborn health. Next year, a PhD programme for midwifery faculty will be launched in Bangladesh – another landmark event in ensuring sustainable midwifery education and practice.
Graduate, Merry Chowdhury, an Instructor from Chittagong Nursing College, comments on the role that midwifery faculty has in progressing sustainable development:
"With this master's degree, we have the responsibility to contribute to sustainable development through sexual and reproductive health and rights and safe motherhood. Our midwifery students can achieve this by learning and providing healthcare. We have learned a lot from Dalarna and are happy to implement it."
UNFPA remains a proud, committed partner in helping Bangladesh reach its sustainable development goals, ensuring all women will have access to quality sexual and reproductive health services through professional midwives.  
Congratulating the first group of midwifery master's programme graduates and encouraging those still in pursuit, Dr. Sathya Doraiswamy, UNFPA Bangladesh Chief of Health and Graduation Ceremony Guest Speaker, reminded all who are working towards establishing midwifery in Bangladesh and pursuing higher education in midwifery that truly:
 "Midwives are the heartbeat of the health systems of Bangladesh. Midwifery faculty are the heartbeat of midwifery education. Quality midwifery practice needs quality midwifery education and quality midwifery education needs quality midwifery faculty. This is the roadmap for improving the quality of maternal health services and towards a sustainable future for Bangladesh."